H.A.L.F PINT V.A 
Born: Reginald Whidbee 
Reginald was born and raised in Norfolk, Virginia. His parents were hard working and he spent a lot of time with them and his siblings. Reginald also loved spending time with his older cousin who introduced him to rap music. In spending time with him, he began listening more and more to rap music, then that became all that he wanted to listen too. A few of his favorite rappers were Big Daddy Kane, Gang-Starr, Run DMC and Wu-Tang Clan. As Reginald became older, he began rapping but also started hanging with the wrong crowd and became caught up in the hustle game. As a troubled youth, he moved to California in 1995 with his aunt to try to get his life back on track. 
He and his aunt became really close and she is the person who gave him the nickname "Half Pint". She was aware of his talents and introduced him to Doug Rasheed with Mad Castle Productions. Doug has worked with many other artists, like Montell Jordan, Brandy, and Ray J. He saw the potential in him and began working with him on some of his own music. His aunt would not allow him to sign until after he graduated from high school. After being in California for 3 years, he became home sick and moved back to Virginia. He returned to Virginia in 1998 and slowly returned to the same hustling lifestyle. H.A.L.F saw that problems came faster than the monetary success. That is when his career came to a stop due to some legal troubles, which really made him re-think his lifestyle.
In 2016, he focused on his music and going to the studio to record. He then recorded 10 songs, which included: "I Am H.A.L.F" and "The Passion of H.A.L.F – Chapter 1". They were accompanied by two YouTube videos. Recently, H.A.L.F recorded three new singles that demonstrate his range and versatility. He feels that making music is his gift and he is ready to share it with the world. Half says, "You can't make millions off of hustling. But if I dedicate to my craft with music, I can obtain the true success". He wants to give listeners his testimony through his passion and lyrics. To stay updated with the latest news and music from Half-Pint VA just #Follow the Links Below!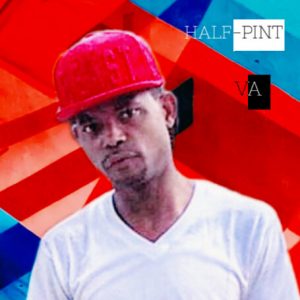 Listen to Songs on Page "Speaker Poppin and "Up and Down The Pole"
https://www.facebook.com/YMaticEnt
sttps://www.twitter.com/halfpint_va
httpd://www.twitter.com/yadamatic