Our Friends at Festival Flyer have taken what we regard as some of the best photos at Glastonbury – have a look at a selection below – and check out the rest on their site.
Also their write – ups are great – a selection below, but, more on their site.  
Glastonbury 2022, Friday: sunshine, showers, crowds and some amazing music
From start to finish, the first 'big band' day of Glastonbury 2022 brought us truly brilliant sets from bands ranging from the smallest to the biggest on the planet.
Over on the Sensation Seekers' Stage we sat and enjoyed fish and chips in the sun with Bob Slayer (owner, driver and comedy conductor) of the Blundabus whilst watching yet another set from Mik Artistik's Ego Trip.
(Small side-fact: we once owned that very bus… next time you buy a ticket to ride ask Bob for the story!)
Bumping into Mik later in the day we scolded him for distracting us from all the 'proper' new bands we should be exploring at this festival of festivals.
It seems every time something 'notable' is happening elsewhere we are sat enthralled, watching him throw paper straws out of his pockets and singing about persistent Yorkshire leaves and rubbish betting shop pens.
Fortunately our trip to see Mik found us in the right place at the right time to chance upon The War and Treaty. This is the sort of powerful gospel-rock that is also epitomized by the slightly more wacky Oh My G** It's The Church, who also grab our attention later on the same stage at Avalon.
If big stage action is more your thing then the two acts in the larger fields other than the two main stages who pulled us in was Greentea Peng (AKA Aria Wells) on West Holts and Dry Cleaning on The Park Stage.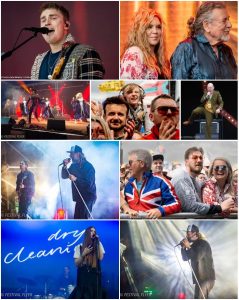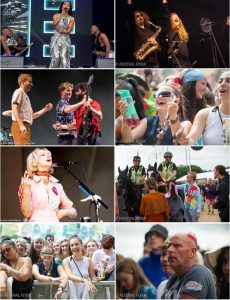 See more at