THE TALES OF RICKY THE ROOSTER
[aka my right hand hen]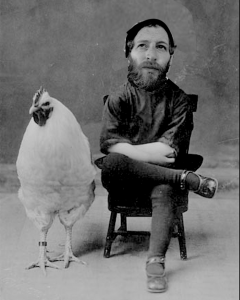 In a past life before
being a public street performer… 
I was a public… street… performer.
hmmm?
except my act was different:
and the star of the show was one –
my lifelong pet& best friend, Ricky.
[pictured on left]
He was well known
all up and down
the west coast
for doing impressions of anybody
upon request.
People loved him.
The women especially adored him.
The most favorite impressions of his
were of Christian Bale,
Peyton Manning,
and Michelle Obama.
The kiddos always laughed when he
turned into Barney or Sponge Bob.
… You get the idea.
He was a natural showman.
A true star, really.
Anyway, the more fame Ricky and I got,
the more it went to his head.
His drinking got worse.
His snarling more hateful.
His womanizing more unfaithful.
And i began building a resentment
toward him.
[pictured on right]
TO BE CONTINUED….
[maybe]